I bought a Seagate Cheetah 600GB ST3600057SS SAS hard drive and it has a problem with file transfers. I have tested it on three different PCs and three different SAS Controllers. Transfer rate with a Seagate Cheetah 15.7k and a WD VelociRaptor 600GB is initially fast, 80-100MB/s, but later it slows down to 10MB/s and stays there.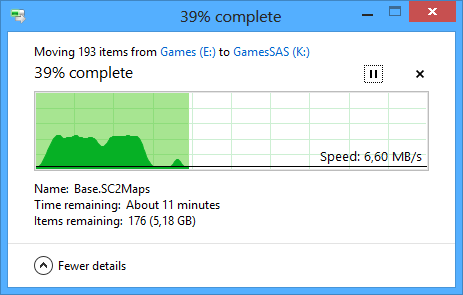 I tested some more, and HD Tach seems to reproduce the issue.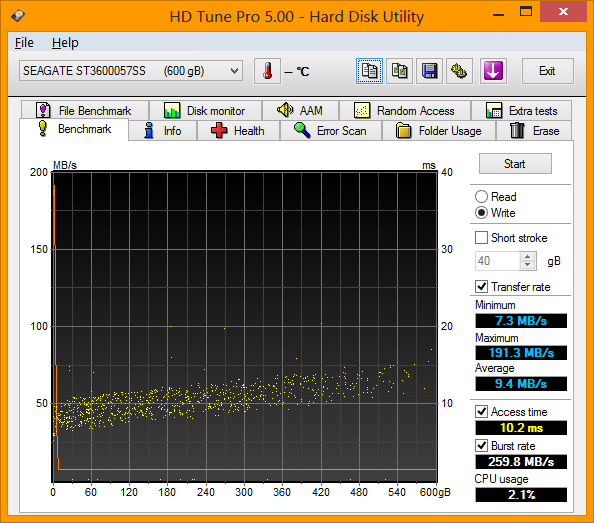 Read and random access is fine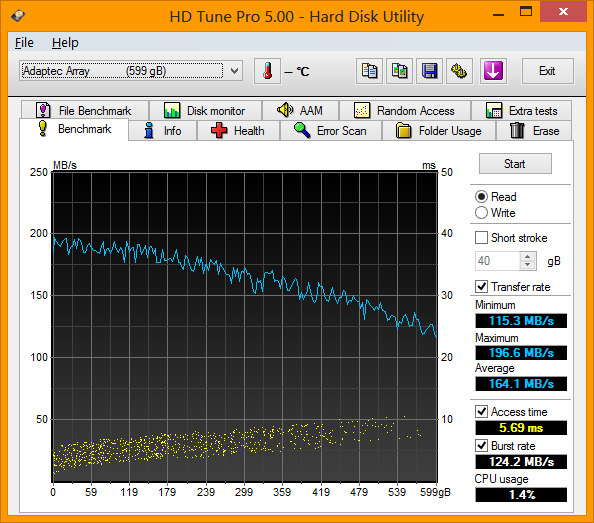 I got a new drive, and it has the same problem. I tested it in a different computer this time, and it was now detected by Seatools. I ran three tests, and they all passed.
Short Drive Self Test (Short DST) – pass
Generic short – Pass
Generic Long – Pass
Success! 😀
I switched for a Hitachi 15K600 Ultrastar 0B23663 HUS156060VLS600 and write performance is fine, both in Windows 7 and Windows 8.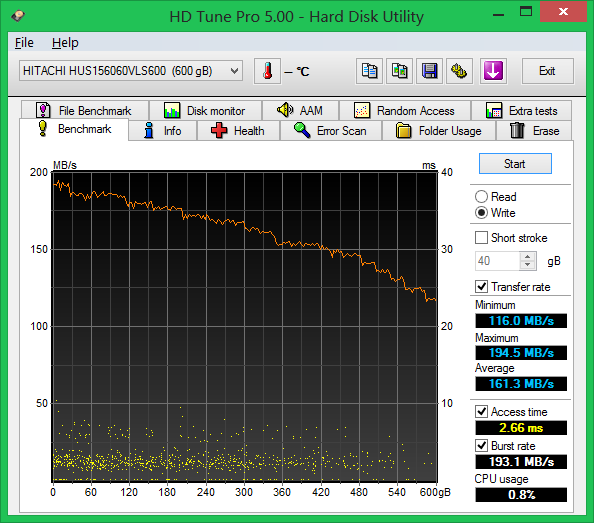 I have been in contact with Seagate tech support and here is what they said:
– I apologize for any inconvenience this may have caused you. Unfortunately we do not have any tools that test the sequential write performance. Normally if there are issues with the drive , Seatools would fail the tests or give you an error code.
This means that Seagate does not have any way of testing performance, and you are stuck with a problematic drive. Due to this, I won't be buying Seagate products for a while. I was lucky that my retailer where I bought the drive accepted my returns and let me change to a Hitachi drive.
I have also found other threads with the same issue with Seagate Cheetah drives:
http://forums.seagate.com/t5/Savvio-Cheetah-and-Constellation/ST3600057SS-Write-performance-issue/m-p/181006
http://forums.storagereview.com/index.php/topic/29207-seagate-cheetah-st3450857ss-15k-slow/
http://www.tomshardware.co.uk/forum/263696-14-seagate-cheetah-st3450857ss-slow